OceanX was in Las Vegas last week for the second installment of Shoptalk, a conference blending the finest minds in commerce and technology. Word on the street was that Shoptalk was the place to be for all things retail, e-commerce, and digital. Expectations for this 'next-generation commerce' event were sky-high.
Second-year events can sometimes become victims of the hype left over from their first year if there has been too much growth or not enough focus on execution, but Shoptalk 2.0 succeeded — and surpassed our lofty expectations. The conference was equipped with high-quality speakers and key decision makers, real opportunities to connect and network, an educational and friendly exhibit hall, and an easy-to-navigate location manned by a very helpful and informed staff.
The new membership economy (and subscriptions in general) was a hot topic at the event. Not a single session focused on it, but the overall idea of connecting directly with people for both brands and retailers regardless of the channel was woven throughout almost every keynote, panel, and discussion over drinks or dinner.
HERE ARE FIVE LESSONS OUR TEAM LEARNED ABOUT DIRECT-TO-CONSUMER SUBSCRIPTIONS AT THIS EVENT
Pure Play Subscriptions Are Evolving
At one point during a very compelling innovative e-commerce trends panel on Monday, Gautam Gupta, co-founder and CEO of NatureBox, practically shuddered at describing his company as a "subscription commerce company." It seems that, for many brands, being defined based on this exact term and their main sales channel doesn't sit well — and for good reason.
Many of the retailers and brands that are currently labeled as subscription e-tailers are evolving. Birchbox, often considered the founding mother of the new wave of subscriptions, opened a brick-and-mortar retail location in Soho and have plans for one in Paris, allowing people to build their own boxes. This move combines beauty products and an in-store experience to provide a compelling environment where customers can interact with the brand much beyond the beauty subscription box.
Apparel retailer Le Tote has decided to focus on personalization and data instead of solely gaining more members. And nutritional health company Care/Of plans to focus more on the overall health of its customers, which may include new sales channels instead of relying exclusively on its current subscription model.
The underlying current of these changes shows that companies without a focus on one single channel are able to evolve and better compete long-term.
Subscriptions Are Part of an Omni-Channel or "Channel-Less" Strategy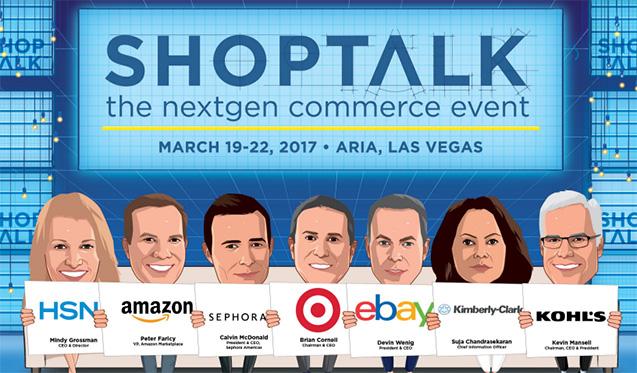 It was almost impossible to sit through any session without hearing the words "omni-channel" or "Amazon." Many presenters argued for a better omni-channel experience while others argued that we should be entering a "channel-less" consumer experience.
Calvin McDonald, President & CEO of Sephora Americas had the best and most passionate keynote about this subject; it also wove in subscriptions (our favorite topic). He spoke in detail about how emotional connections and experiences are at the heart of his company's strategy.
He also discussed the amazing ways that Sephora connects with its core fans to teach, inspire, and play in-store, online, and everywhere they can interact. He highlighted the successful PLAY! by Sephora box, which mixes sample products with the benefits of membership, including exclusive experiences in-store and online, as one of the three key tactics that have helped them stand out over the last year.
We expect many omni-channel retailers to follow Sephora's lead and mix in subscription with experience to better compete with Amazon, Walmart, and even Alibaba.
Machine Learning and Artificial Intelligence Complement Direct-to-Consumer Business
The big tech buzzwords of Shoptalk this year were "Artificial Intelligence" (AI) and "Machine Learning." Devin Wenig, president and CEO of eBay, warned attendees during his keynote that any retailers without an AI strategy will be out of business within the next three years. "AI is really buzzy, but that doesn't mean it is wrong," he explained before discussing ways that eBay and other businesses are beginning to utilize it.
The underlying theme was, if your business is not constantly learning and improving, then it's positioning itself for failure. Amazon Alexa, Google's search, and StichFix's apparel algorithms all improve over time as they are used, constantly improving both their businesses (and when applied correctly) their interactions with consumers. And as voice assistants like Alexa keep improving through AI, we will be able not only to order anything we want, but also to manage our subscriptions and accounts through those channels. Uri Minkoff of the company Rebecca Minkoff demoed how he uses Alexa to provide him with day-to-day sales data, allowing him to run the business without relying on spreadsheets or dashboards.
Delivering Amazing Experiences Is Key Online and In-Store
In the subscription world, we think about delivering experiences at every touchpoint, from ordering online on a smartphone to the unpacking experience. Shoptalk had many discussions about how delivering quality experiences creates a long-term impact that develops an emotional tie between consumers and brands.
There were also some cool demos of delivery drones and robots, targeted to both consumers and business owners. Discussions about supply chains, logistics, and even pricing and how those elements relate to customer experiences might not have been as sexy as robotics demos, but savvy retailers were listening and learning.
The experience when you walk into a store or when a package arrives at your door are now considered equal in the eyes of many smart retailers and brands. We expect this trend of using technology to better enhance the subscription experience at all touchpoints to continue and the companies that can connect the front end facing marketing to the delivery experience in brand appropriate ways will lead the next wave in retail.
China Opportunities and Another Big Amazon Competitor
Although not at all uniquely applicable to subscriptions, the keynote from Michael Evans, president of China based Alibaba, was hard to ignore. Alibaba may not be a household name in retail yet in the U.S., but its dominance in the world's largest market and its plans to become a bigger player in the U.S. industry are impressive. Any brand or retailer should be keeping China in its mind. We think with e-commerce and logistics in place, subscription channels could become huge in China. And some of the numbers from Alibaba are hard to ignore:
Amazon sends 3 million packages a day. Alibaba sends 12 million packages a day.

By 2019, Chinese online shoppers will account for 29 percent of the world, accounting for 55 percent of total online sales.

On Singles Day in 2016, a promotional day with a massive media blitz, Chinese companies sold $17.8 billion worth of merchandise in 24 hours, including over a dozen Maserati cars in the first few minutes.

Alibaba may just be the most vertically integrated company in the world with e-commerce, marketplaces, payment, marketing, media, events, and much much more.
Our team had a great time learning and sharing experiences at Shoptalk 2017. With so many innovations on the horizon, it's an exciting time to be a part of the new membership economy. We can't wait to see what Shoptalk has in store for us in 2018.