Subscription box services are here to stay, and they're only gaining popularity. Consumer retail insights found that visits to popular subscription boxes' websites have increased by a whopping 3,000 percent in just three years. What started out as niche companies delivering specialized products to consumers' doorsteps has developed into a multibillion-dollar industry. Even big-box retailers and brands have launched their own subscription programs.
Adidas, for example, offers an exclusive quarterly themed subscription box that contains core products you think of like shoes, but also apparel, inspirational content, and more. Sephora recently introduced its PLAY! by Sephora beauty box filled with sample products delivered right to your door. It also encourages members to visit Sephora stores for exclusive, member-only experiences. And even Amazon offers its own subscription services, including Amazon Subscribe & Save, which focuses on replenishment.
STANDOUT SUBSCRIPTION SERVICES
Most recent reports on the increase of available subscriptions focus on digital and SaaS options like Spotify, Netflix, and Adobe or the rise of box businesses that followed Birchbox's explosion onto the scene in 2010. But subscriptions have been around much longer than seven years — and some have been wildly successful. Here are five subscription businesses that succeeded and made lasting impacts. Some are noted for their longevity, others for the sheer volume of total sales, and still others for their impact during their eras and how they shaped and disrupted the retail landscape.
Book of the Month Club:

Launching the Initial Subscription Wave
There's a reason why Book of the Month Club has been around for more than 90 years. Founded in 1926, the club was revolutionary in gaining direct access to core customers on an ongoing basis. The Book of the Month Club sought to share high-quality, newly released books with readers across the country, helping iconic books like Margaret Mitchell's "Gone With the Wind" and Ernest Hemingway's "The Sun Also Rises" gain popularity. The subscription program became more than just a brand. Curation was at the core of the service — its high-quality selections are based on judges and editorial picks. The club helped launch the careers of new authors, signaled what was popular in a given literary era, and spread the love of reading to rural areas where bookstores and libraries were not as common in the mid-20th Century.
The club has battled with publishing houses, independent booksellers, large chain bookstores, and Amazon in its long history. In 2015, the company revitalized its image to keep up with the digital age. Its modern iteration offers members their choice of one of five new hardcover books each month. The new Book of Month Club now has an active social media presence (including over 100,000 Instagram followers) and an online discussion forum where members can chat about what they're reading.
Columbia House Record Club and BMG Music Service: Tantalizing Intro Offer and New Subscription Business Model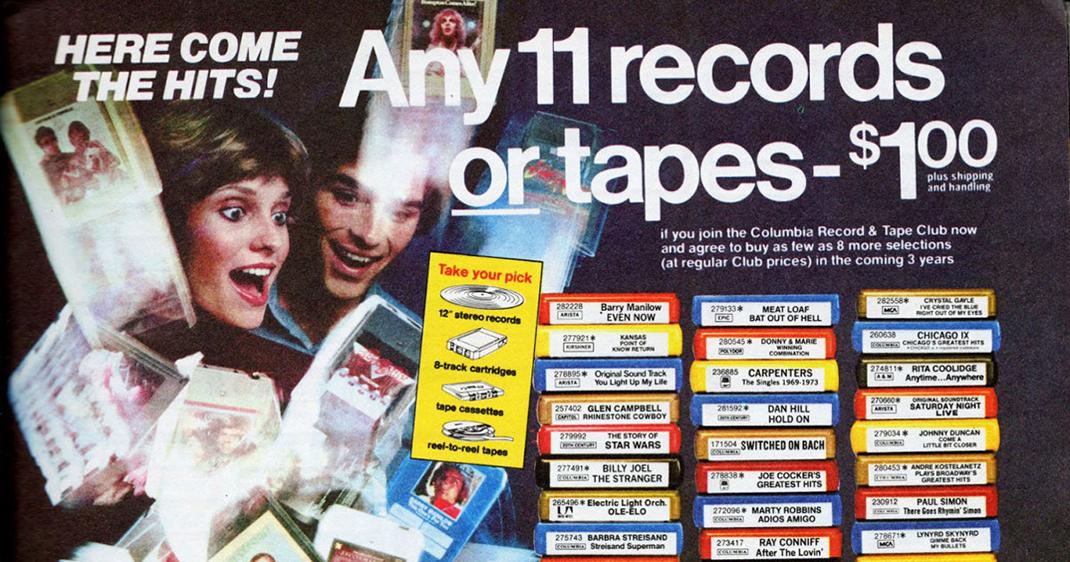 Long before iTunes and Spotify transformed the music business, there was Columbia House Record Club and then BMG Music Service. The subscription service allowed members to sign up for just a penny and receive records (and later, cassettes and CDs) in the mail monthly. By using various marketing channels like TV and print, the club gained a massive following. The club reached it first wave of popularity with millions of subscribers in the mid-1970s and reached its peak when CDs were the dominant form of music in the 1990s. The popularity eventually waned as technology and MP3s changed the ways people consume music and some members became frustrated with how difficult it was to cancel their memberships. Despite filing for bankruptcy in 2015, Columbia House was later relaunched as a vinyl subscription service. Although it's much smaller than it was at its peak, it's still active.
The acne-treating product, known mostly for its commercials featuring celebrities like Jessica Simpson and Adam Levine, was created by two dermatologists and launched in 1995, marketed by direct marketing company Guthy-Renker. The majority of Proactiv sales were initially made via the phone and eventually moved online as part of a subscription service, where customers usually make an initial purchase, and then have multiple ways to customize and personalize what they need for future deliveries.
Proactiv succeeded through a mix of emotional TV advertising that targeted not just the product but the problem its acne solution solved — and how that made customers feel. At its height, Proactiv dominated the entire acne and skincare market, and all orders generated from the TV offers were subscriptions. Proactiv products were sold in very limited retail channels, which focused all sales to the direct-to-consumer subscription model.
Compared with the other subscription companies, Birchbox is relatively new; it launched in 2010. But Birchbox is credited with resurrecting the subscription-based business model and is considered the pioneer of the sample beauty box phenomenon that now has dozens of copycats. While it's still too early to be certain whether Birchbox will stand the test of time, the company is continuously evolving. It sets itself apart with an e-commerce store selling full-size versions of the samples it offers in the boxes, and the company has also added two brick-and-mortar stores and a newly launched personalization component to appeal to and retain more customers.
The key to Birchbox's early success was receiving free or very low-cost samples from beauty companies that used Birchbox as a way to target consumers. While the company started with just 1,200 subscribers in 2010, it has grown to millions of members currently enjoying a wide range of beauty products.
Amazon Prime: Speed of Delivery, Product Assortment, and Scale
This subscription service is more of a hybrid, because while Amazon Prime itself is a digital service, it delivers physical products directly to members' homes with amazing efficiency. But it's a subscription business worth mentioning because it's one of the largest and most well-known, with about 80 million subscribers — that's up about 38 percent from last year's numbers. Besides free shipping, Prime members get access to Amazon Prime Video, Music and many other perks. Amazon also offers various other subscription services, including Subscribe & Save, which provides regularly scheduled deliveries of household items, and STEM Club, which delivers educational toys for children.
Subscription services of the past have shaped today's subscription business models. Companies new to this model should look to the experiences of these five companies to learn from their successes.